Vinyl Siding
The most common exterior material in Nebraska, vinyl siding is popular for good reason. The product has a pleasing aesthetic and does not require much maintenance. As a relatively inexpensive material to produce, vinyl is offered at a high value on a per board basis. Vinyl siding is available in a wide range of colors, and all of these colors are damage resistant. Since vinyl is produced with pigment in the main material itself, the color goes all the way through the board. As such, scratches make no difference to the material's outward color. Vinyl is available in panels, shakes, shingles, and a variety of board shapes. This material requires very little work in terms of labor, making installation costs quite low compared to other materials. Because of the material's high value nature and low-cost installation, it is the most cost-effective siding product on the market.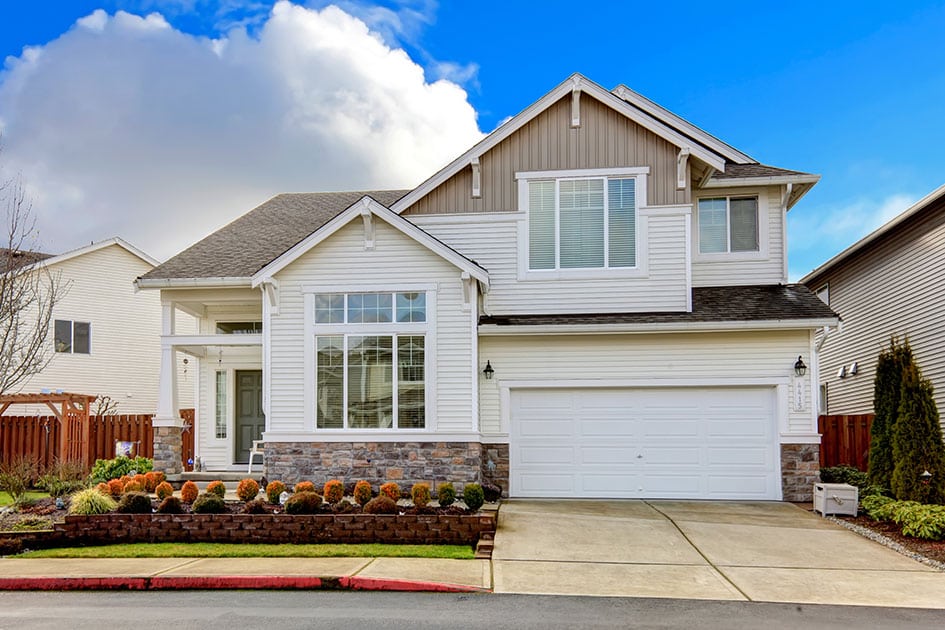 Whatever your project—renovation, remodeling, or building something brand new—vinyl siding is a great choice. The product's production allows it to take on the cozy, natural appearance of wood, and it's synthetic and impermeable makeup enable it to endure a variety of weather conditions that wood does not face well. Because of vinyl's pigmentation, the material does not require painting, staining, or scraping. It also does not split, rot, or peel. It's also incredibly easy to take care of—just hose down the sides of your house from time to time and your exterior will look as good as new.
BENEFITS OF VINYL SIDING
No painting required
Easy keep clean and maintain
Available in a number of shades and colors
Available in a variety of styles, including fish scales, scallops, lap, shakes and more
Available with an insulated foam backing to help reduce energy consumption
Boasts significant longevity
Business and homeowners across the state are huge fans of vinyl siding. Its aesthetic appeal and high-quality composition reccomend it to a wide variety of projects. Offered in a wide variety of textures and colors, allowing home and business owners to take a huge amount of creative control with their exterior. In years past, vinyl was predominantly offered in a limited range of pastels and neutrals. Today, though, it is manufactured in nearly every color imaginable. If you are looking to make your building stand out from its neighbors, take a look at vibrant vinyl siding. If you're looking for a more subdued shade, take a look at vinyl siding too. Whatever shade you choose, it will last a remarkably long time, as vinyl's pigment runs all the way through the boards and is rarely subject to significant degradation. Even if the surface of the product is scratched, markings are hardly visible. As there is no layers of paint or stain to scratch through, each layer reached by the markings is the same color as that on top.
HISTORY OF VINYL SIDING
Introduced into the construction industry in the mid-20th century, vinyl exterior was first marketed as a synthetic and highly durable replacement for aluminium siding. A recent invention at the time, the production techniques had not been perfected and there was room for improvement. By the mid 1970s, however, there were a number of new manufacturing technologies invented and the product became highly reliable by every metric. After this manufacturing transformation, vinyl was able to be produced more efficiently, and offered customers longevity and durability. Around this time, manufacturers of the product began to produce a wider range of colors and consumers began to notice the changes. Ever since then, vinyl has been on the up-and-up. Low-maintenance and high durability combine to make a very popular project. It remained in the top spot on the housing market until Hardie siding came onto the scene and began to compete.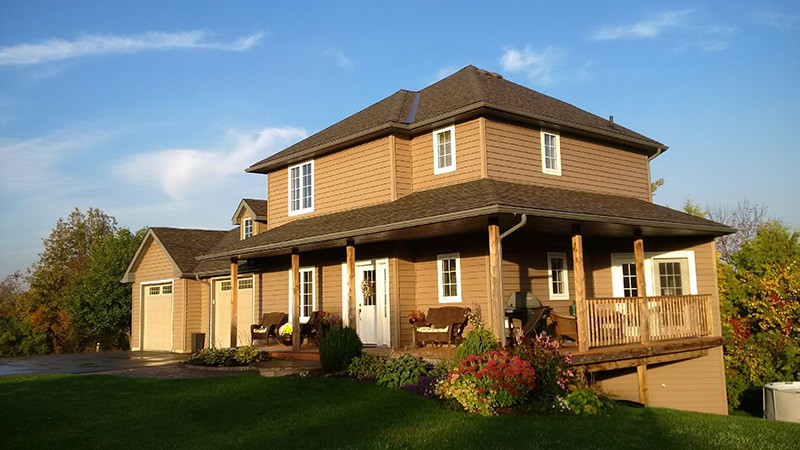 Vinyl paneling is still enormously popular all across the nation. In a construction market filled with a wide variety of vinyl products, the spectrum of quality is quite expansive. In general, a product's thickness is related to its level of quality. On the thinner and lower end of the spectrum, panels will run around 0.3 mils. On the thicker and higher end, they tend to be closer to 0.6 mils. The product's well-touted durability is dependent upon the basic ingredients of the material. Each producer uses a different recipe and method, and each achieves a different result. Many popular producers offer a range of thicknesses in their siding lineup, allowing them to meet the needs of a wider range of budgets. The thicker panels are typically more rigid and longer lasting than the thinner panels. They also tend to have greater resistance to vinyl's only major weakness: the tendency to break or crack in extremely cold weather or when subjected to blunt force. As Omaha and its surrounding areas tend to have relatively warm winters, this is rarely a concern for local residents.
The exact formula of vinyl siding varies from producer to producer and each combination of ingredients has a significant effect on the product's longevity. When you are selecting vinyl paneling, it is important to consider whether or not the product is manufactured with a protective UV coating. This is a fairly standard factory feature, but absolutely worth checking on. Without it, vinyl can be subject to harmful aesthetic and structural damage. In general, the higher end the vinyl, the better its UV protection will be.
TYPES OF VINYL SIDING
The home siding market has a wide variety of vinyl sidings to choose from. Among the most popular forms for the material to take are false wood, false brick, false stone, and paneling boards. The most common of all is the traditional, certified vinyl siding. The cutting-edge manufacturing processes used in producing vinyl exteriors allow it to recreate the appearance of a wide range of materials. With vinyl, you can have the look of high-end siding without the cost. Vinyl also tends to be more durable than many of these other products as it does not rot, peel, or require painting. As a synthetic material, there is no limit to the colors in which it can be made—if you can dream it, you can do it. Just make sure you keep in mind the product's thickness as you pick out your siding. Thicker products result in longer lasting and more durable exteriors.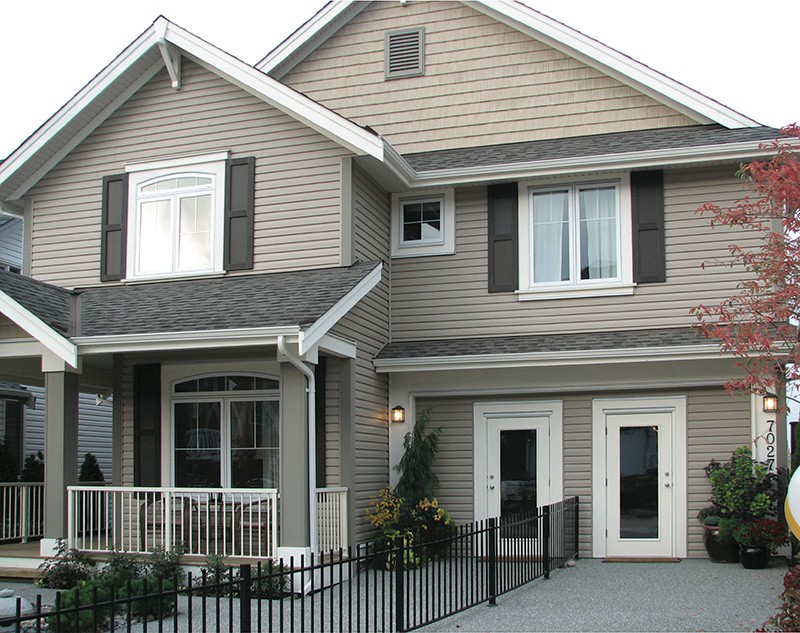 The material has a large number of things to recommend it, but one of its most commonly cited appeals is its top-notch appearance. If your house or commercial building is starting to look run down or its paintjob is starting to crack and feel, you can give it a facelift in no time by replacing existing siding with with a new set of vinyl panels. Easily installed over top of concrete, brick, wood, and stone exteriors, vinyl is a quick way to change your building's appearance. With Omaha Siding, your home's appearance can go from run-down to resplendent in no time at all. The purchase and installation of vinyl siding can make your home feel just like new again.
INSULATED VINYL SIDING
Vinyl siding is available in an insulated version as well. This new material has made a strong appearance in the construction market over the last few years. The material, produced with a second layer of foam secured to the vinyl itself, offers low-maintenance durability just like regular vinyl siding, with the extra, energy-efficient boost of insulation. The two products, when put together, increase your home's energy efficiency, durability, and appearance all at once. Many people who install these insulated boards see an increase in energy efficiency rising well over 30%. Additionally, the second layer of foam supports the vinyl, making it even stronger than it is alone. Insulation also serves the purpose of reducing outside noise.
Though it is more expensive at the start, insulated vinyl panels are well worth the initial investment. There are typically significant returns on this upfront cost. Homeowners regularly see significant increases in real estate value and home energy efficiency.
An investment in foam-insulated vinyl siding will bring you:
All usual benefits of regular vinyl paneling
High efficiency and lower utility costs as a result
Greater durability than many other exterior materials
A remarkable and measurable reduction in outside noise
VINYL SIDING INSTALLATION
A well-rounded choice for homeowners, vinyl is a low-maintenance and highly durable exterior material. Vinyl is very easy to maintain, but it can be somewhat difficult to install. Siding experts recommend that homeowners seek out certified and qualified professional contractors to make sure everything is installed properly. At Omaha siding we offer these high-quality, certified installations that you are looking for. Come work with us. You are sure to love your beautiful, perfectly installed vinyl paneling.
Call to request a free estimate: +1  (402) 307-6363
Or E-mail: info@SidingInOmaha.com